Patient Forms
PREPARING FOR YOUR CLINIC APPOINTMENT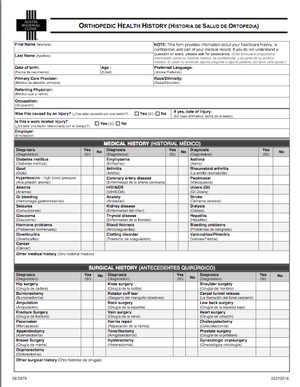 Dr. Driscoll wants your first visit to our clinic to be as convenient and efficient as possible. With this in mind, you have the option of filling out our

new patient history form prior to your visit. Simply print the form, fill it out at your convenience, and bring it with you to your appointment.

At the time of your initial visit, Dr. Driscoll will perform a thorough evaluation including history and physical exam. In most instances, imaging studies are needed as well. X-rays can be performed at the time of your visit. Additional imaging studies, such as MRI or CT scan will be scheduled after your appointment if necessary. The information obtained from these images will help Dr. Driscoll diagnose the problem and recommend the best treatment for you.

If you have seen another physician for this problem in the past, please bring the relevant records to your appointment. This includes prior X-ray, MRI, or CT images as well as reports, if available. If you have had prior surgery for this problem, please bring a copy of the operative report as well. This can be obtained from the other surgeon's office.